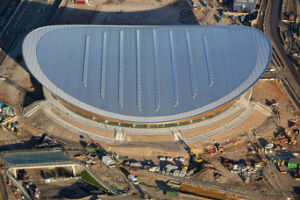 Doesn't it fill the UK's cycling community with pride to know that the first major London Olympic venue to be brought to completion is the stunning £95million Velodrome? With claims of being the fastest cycling track in the world the Velodrome was officially opened in late February with the 6,000 seat venue making a stunning addition to the rapidly emerging Olympic park; it's already being hailed as the default architectural icon of the development and it's easy to see why.
The key team responsible for design and delivery comprised Chris Wise, Dean Goodliffe, Mike Taylor and Ron Webb, the former Australian cycling champion, who has already been involved in the instillation of more than 50 tracks world-wide including those for both the Sydney 2000 and Athens 2004 Olympic Games. Webb has commented that "Building a track is like building a ship inside out", and with the London Velodrome featuring one of the largest cable-net roofs in the UK along with 56km of Siberian pine all nudged in to place with 350,000 nails it's easy to grasp the nautical simile. Fact-fanatics might also like to note that the entire structure sits on 900 piles that had to be driven to an exceptional depth of 26m due to the fact that the development area is, basically, a 100-year-old landfill site. If you win a pub-quiz now you know that, you owe Cyclo a beer (it's the rules.)
Other innovations for London include a 360degree glass wall between the upper and lower tiers of seating to give panoramic views across the park (though eyes on the track would seem more appropriate), seating around the entire track rather than just the straights, climate control to hold things around the 29°C mark for improved times, plus a track-side competitors' loo suggested, legend has it, by Sir Chris Hoy.
Of course legacy has been a key term right from the beginning of the bid to stage the 2012 Games and the Velodrome and wider VeloPark are at the heart of this commitment. Once the final medals have been awarded and the Olympic flame handed on, a new mountain bike course and road-cycle circuit will be added for use not just by elite athletes, but by sports clubs and the wider community. Added to this will be cafes, bike hire facilities and cycle workshops all of which will help to create a new cycling "hub" which will be owned, run and (mostly) funded by the Lee Valley Regional Park Authority.
With Track Cycling having been, by far, Great Britain's biggest success in Beijing (more than a third of Team GB's total golds came via peddle power) it's clear that riders will be pushing hard to up their game for 2012 and London's Velodrome will provide a stunning background whilst the drama unfolds. Here at Cyclo we can't wait to get inside and have a play (where was our invitation in February?)
(Velodrome image courtesy of LOCOG)