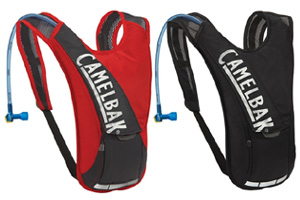 As cyclists we know you must be aware of good hydration (if not, read our feature here) and Camelbak have been market leaders for more years than Cyclo cares to remember. With the warmer weather upon us – at least at time of writing – we've had our hands on the Camelbak Hydrobak 1.5litre for a spot of in-saddle testing and have enjoyed its use every bit as much as we had anticipated. This is a low-profile, lightweight hydration solution, barely 33cm in back length and weighing in at only 160g (excluding reservoir and water) that should make it suitable for riders even of the slightest build and frame. It has a close fitting strap system that holds the pack tightly in place and the meshed pad reduces sweat and heat build-up which would otherwise be counter productive to keeping well watered. For the fashion conscious (!?) the Hydropak is available in four colours – black (for stealth mode), white (to show up the grime), lime green (for the extrovert) and red (which probably makes you go faster, but tests at Cyclo were inconclusive…) Importantly there are also front and rear reflectives to keep you safe.
Admittedly 1.5litres isn't the most generous of reservoirs, but should be enough to keep you topped up for a good two hours on the road, and the tiny zipped pocket is barely big enough for a car key and an emergency mint humbug. But for its size and price point (in the region of £35.00) it's a good choice of packs.
Being the responsible bunch of people that we are, Cyclo thought we'd share some top tips for the use of this (or indeed any other bladder system):
To prevent the unpleasant "sloshing" that can interrupt the most tranquil of rides, invert the bladder after filling it and gently suck on the bite valve to remove all excess air. Bingo, no slosh.
A dash of lemon juice in the bladder post-ride will help to clean it and neutralise the taste of iodine or other water purification tablets. If you're of an adventurous nature and find yourself on a multi-day desert adventure chip shop vinegar sachets work well too – but stock up on them before you head to the Sahara (and rinse well afterwards…)
Finally, to keep the bladder from developing its own "special cultures" between uses, store it in the freezer and defrost when needed.