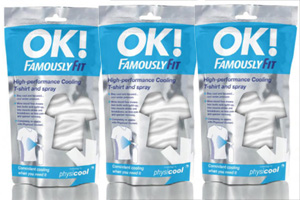 The original Physicool product was a cooling compression bandage that first made its appearance on Dragons' Den a couple of years ago and could genuinely claim to be revolutionary in its ability to combine post-exercise compression with the recovery benefits of cold – all without the need for icepacks. Now, in association with OK! Famously Fit an online "Celebrity and Expert Health and Fitness" magazine (with ex-Steps star Lee Latchford Evans, no less), they have released the Physicool Cooling Tee-Shirt based on the same coolant spray as the bandage. In principle this might seem like a good idea, but in execution is a little bit neither fish nor foul. The tech-quality T-shirt can simply be sprayed as and when required with the coolant spray to help wick away heat from the body; and in this it is undoubtedly effective – we found that it consistently cooled us for more than an hour without the need for "recharging" and not just in a vague menthol spray way that fools you in to thinking you are cooler (such as with Skins ICE) but in a demonstrable and measurable body-temperature manner. Good stuff, but at Cyclo we can't quite see the point.
Post ride you could certainly use it to simply cool off – although rapid cooling isn't always the best advice – but with a little more application this could have been an excellent addition to you kit bag. Imagine if Physicool had teamed up with the aforementioned Skins, or indeed CompresSport, TXU, etc, so that true post-exercise recovery could have been achieved with a little extra squeeze. At £49.99 for a T with 250ml of coolant or £58.98 for a T with 500ml you are already in to the territory where you could by an excellent compression top from most of the leading brands and still have money over to but a stand-alone bottle of coolant at £7.99 for 200ml or £16.99 for 500ml…
So, certainly not the cheapest bit of kit you could add to your bag, but it does do exactly what it claims. Cool.
Available from www.physicool.co.uk