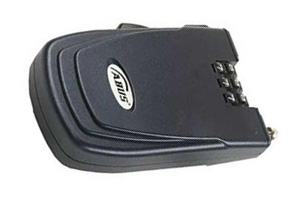 According to the British Crime Survey the number of yearly bike thefts in the UK is pushing 533,000 – the equivalent of one bike being spirited away every minute – and if you read Cyclo's recent news story (if not, why not?) on the shocking state of the country's cycle larceny you might think it high time that we reviewed a bike lock. Well your wish is Cyclo's command. We thought we would start with an entry-level cable lock and so turned out attention to the Abus Combiflex 202. The Abus brand has been around for more than 80 years (the name is an initialisation, apparently, of August Bremicker und Söhne KG) and was founded on the principle of "Security calls for quality!" So how does the Combiflex measure up to that particular battle-cry? First the stats: the Combiflex is the size and weight of your average mobile phone (it also looks uncannily like one when retracted), has a 2.5mm thick plastic-coated, steel cable, which is 90cm long, and is held secure by a simple 3-digit (re-settable) combination lock.
Quick impressions may not be that great and indeed it's unlikely to repel the most determined of bike thieves, but for use in low-risk areas or for quick-stops (pub?) it's a simple and elegant solution. It's big – or rather small – advantage is its size and weight, especially when a hefty D-Lock is an alternative. The Combiflex fits easily into a pocket or seat-bag and is discreet enough to take anywhere or keep with the bike as a back-up plan for when you forget to take your "regular" lock out. We did find that, on occasion, the lock didn't quite click home as intended – so double-checking that everything's secure is essential.
Certainly not the most blagger-proof lock on the market (nor would you expect it to be at £20.00) but as a keep-with-you go-anywhere solution it's hard to beat.