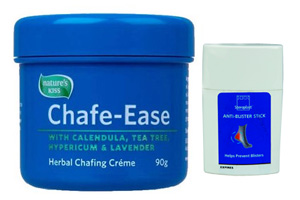 Nothing – with perhaps the exception of poor weather and falling off – spoils a good cycle ride more thoroughly than good old fashioned chaffing. Even the most expensive apparel can rub you raw when you least expect it, after months of loyal service without so much as an uncomfortable seam suddenly that dreaded hot-spot develops. The first of Cyclo's two favourite products for dealing with the problem is Chafe-Ease made by the New Zealand company Nature's Kiss – we came to this via their better known and long-available Recovery rub which works wonders on tired legs. Chafe-Ease is a relatively thick (but non-greasy) cream that combines Calendula Officinalis, Hypericum Perforatum (St John's Wort) and the essential oils of Tea Tree and Lavender that can be rubbed in pre-ride to any areas that you know are likely the rub (perfect for brand-new kit that still needs a but of breaking in) or used post-ride to treat areas of irritation. Also a general moisturise, Chafe-Ease works well, we've discovered over long winter months, in treating cracked skin on exposed fingers. At around the £10 mark, it's not the cheapest ticket on the market but worth the extra few pounds as the 90g tub seems to last forever.
Our other recommendation is the Anti-Blister Stick made by Steroplast (around £4.50) – this was first recommended to us by a runner friend but we find it translates well to two wheels. Really intended to treat blisters on the feet, it actually works brilliantly as an emergency anti-chafe, being about the size of a match-box and easily slipped into a jersey pocket. The semi-solid stick, which works in a similar way to push-up deodorant sticks, and combines palm butter and hydrogenated avocado oils for an effective and non-greasy result.
Both are widely available online.