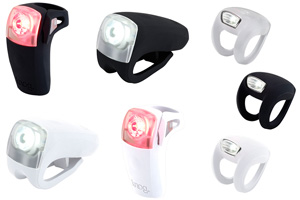 Knog, the Melbourne-originated brand, has been producing highly distinctive panniers, apparel and cycling kit since 2003 and here at Cyclo we were delighted to get our hands on two of their dinky and delightful lighting solutions. Okay, the nights aren't drawing in to quite that extent yet, but it's never too early to remember the "be safe, be seen" mantra…
First up the Knog Frog Strobe LED Twinpack a pair of flexible silicone bodied lights with an impressive 80 hour burn time in flashing mode on a single set of CR2032 batteries (reducing to 50 hours in constant mode) and with visibility of up to 600 meters. Whilst not intended to replace the legally required main lights on your bike, the Knog Frogs can clip on just about any major part of the bike from handle bars to seat post with their quick release system and are small and light enough to carry in a pocket or pack for those all-too-annoying "just in case moments" when failing light catches you out. Water resistant, cute, available in three colours – black, white and transparent (more options would be nice) and with three flashing combinations (plus constant) we think that the Frogs are series competition to the NiteRider Lightning Bugs. Expect to pay in the region of £20.00.
Stepping up a gear – not to mention a price bracket at £45.99 – The Knog Boomer LED Twinpack is a "proper" set of lights, with the front component burning for 4 hours (or 36 hours in strobe mode) at an impressive 50 lumens and the rear light managing 12 hours (72 flashing) at 30 lumens – both on a set of two AAA batteries. Although only available in either black or white it's the stylish looks of the Boomers that are likely to swing a purchase when what you really don't want is something less design conscious cluttering up your bike.
Knog lighting is available at wiggle.co.uk