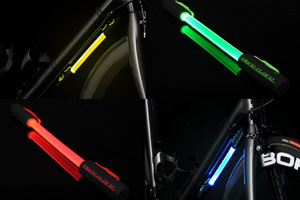 Fibre Flares could well walk away with the Cyclo 'Find of the Year' award (only we don't have such a category. Or awards). So suffice it to say that we really love these innovative solutions to more all-round cycle lighting safety. Whilst most lights work by making you – and your bike – clearly visible in only two directions (from in front and from behind), Fibre Flares illuminate you from the oft-forgotten side view, making you more clearly seen by traffic approaching broadside on.
Using high intensity LED's to illuminate a flexible fibre optic core and most resembling an emergency hand-held flare, they can be attached in a variety of ways and places. A clip at either end means they can be secured to apparel or bags and detachable silicone straps, with a variety of width notches, can be used to attach them to more or less any part of the bike frame, including over-size tubes of up to 60mm.
The shorter length 'Side Lights' version, at 250mm, is available in blue, green, red and yellow (for around the £28 mark) and provide illumination up to 300meters with either a solid light or strobe mode, selected – as is on/off – via a silicon-encased push button at one end. The longer, 292mm, 'Tail Light' is available only in red light and at around £30.00 is primarily intended to compliment rear light safety. All versions should see you though around 70 hours in strobe mode on a single set of AAA batteries.
Aside from the obvious safety benefits, there are two things that Cyclo most admires about Fibre Lights. Firstly they are absolutely beautifully designed and made; whilst there's nothing overly-engineered about them (no fuss, just clean, functional lines) they have something approaching 'classic' about them – they do there job, and do it well, but also look made to last and made to be admired. Secondly, dare we say, there is something 'fun' about them (a touch of the Lightsabre?) which should make them terrifically appealing to kids, either as a 'must-have' adornment for their bikes or in secondary use as all-round (literally) safety kit for dark and dusk excursions, school runs, camping trips and so much more. Genius…
Fibre Flares are widely available online.