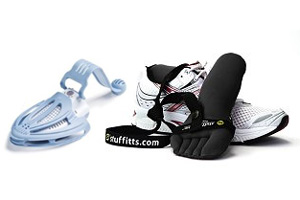 This may have been the driest Autumn since records began and there is even talk of winter droughts, but rest assured at some point over the next few months you (and your shoes) are going to get a soaking. Of course drying out your cycling shoes can be as simple as stuffing them with newspaper or sticking them next to the radiator, assuming the 'hot whiff' doesn't put you off – on the other hand you could do worse than invest in one of the new breed of speciality shoe-dryers on the market.
First of test for Cyclo was the Stuffitts Shoe Saver made from 100% natural cedar; these admittedly rather odd looking soft, form-fitting inserts simply slip inside damp shoes and the roughly-anatomically-correct design ensures maximum 'point-to-point' contact, drawing out moisture overnight and helping to both eliminate odour and, claim the manufacturers, extend the life of your shoes. Stuffitts claim to remove 60% of trapped moisture within an hour and to remove 98% within 24hours – pretty much double what you might expect from 'air drying; alone. The results actually spoke for themselves: Cyclo's soaked shoes, quickly became our ready-to-wear dry shoes and we particularly liked the connective carry strap that keeps shoes together and allows for easy hanging. Available in a range of both colours and sizes for £25.99 from stuffitts.co.uk
For the more techie-oriented cyclist (never enough gadgets are there?) the Pingi Shoe Dry might fit the bill – and your shoes. Available online at around £23.00 these also slip into the shoes, but this time all the way down to the toe with the adjustable stretcher taking up the slack – once in place the integrated, absorbent crystals get to work and once finished the crystals are dried out by plugging the Pingis into a socket. This might sound over-complicated and, in fact, it is. They work reasonably well – arguably better than 'air drying' – but nowhere near as well as the Stuffitts, which also have the benefit of being far more environmentally friendly. Sorry, gadget-fiends, but Cyclo has a clear winner here.