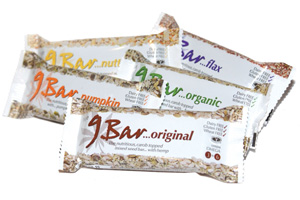 9Bar is a nutritious and, we have to say delicious, seed bar that packs so much in it's a wonder the bars aren't twice the size. As important as what the makers put in, is what they leave out – no artificial additives, wheat, dairy, gluten, lactose, yeast and egg free. Impressive credentials and Cyclo has it on good authority that these find their way into top flight pro team nutrition programs as an addition to the all-singing-all-dancing energy bars supplied by the big makers.
Easy to see why when you consider how good for you the contents are. The Original 9Bar combines sunflower, pumpkin, sesame and poppies with a carob topping, and serves up a whopping 277kcal from the 50g bar – 14.6g of carbs (13.1 from sugars), 9.2g of protein and good doses of omega 3 and 6. There is also the likes of zinc, magnesium and potassium present, excellent for replacing body salts lost through sweat on the ride.
The four other flavours, Pumpkin, Flax, Nutty (Cyclo's favourite), Organic, are also damn tasty and all offer up the same, or similar, levels of nutritional excellence. Made in Wales, 9Bars should, we believe, find their way into every cyclist's pocket (and then mouth.) It may only be January, but we put money on this remaining one of our products of the year.
RRP: £0.95 – widely available on the high street and online via 9Bar.com