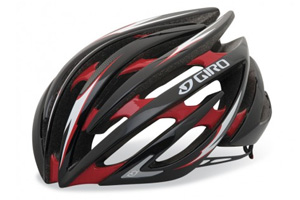 The Giro Aeon (which Cyclo understands is pronounced 'a-on', so now you know) is an exceptional piece of pro engineering that combines exceptional weight saving with masses of ventilation. Granted this isn't the time of year in the UK to be terribly concerned with over-heating heads, but at £179.99 you could start saving now and sport one come the hotter months.
So what exactly do you get for the best part of £180? For a start the Aeon is light, and we mean really light – coming in at 189g for the small and a smidge heavier (222g) for the medium. Part of this weight saving seems to come from the new 'Thermoformed SL Roll Cage', which is reportedly 50% lighter than cages used on the Ionos predecessor, more of course comes from the sheer amount of venting. The vents (or the helmet depending which way you look at it) splits in a zigzag form from the brow and are fully channelled to effectively drive breeze through.
Comfort and fit are absolutely outstanding, with everything locked down by the flexible 'Roc Loc 5' system that adjusts instantly and easily, but stays rock (roc?) solid once set up. Padding is more than adequate and doesn't take anything away from the hard work that the venting does. There is – Cyclo thinks – something slightly aggressive (or perhaps just competitive) about the styling with its angular juts, but on the plus side it is available in a good range of colours including a black/charcoal combo which adds a 'stealth element' (though perhaps not a safety element.)
Granted, this is not a cheap helmet, but it is built without compromise and performs at exceptional levels.