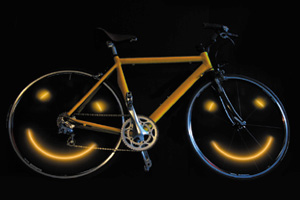 Last night (February 22) saw upwards of 2000 cyclists taking to London's early-evening streets in an organised and much anticipated 'flash ride' which involved a nearly half-mile long stream of riders heading down The Mall and past Parliament before splitting in two to cover both banks of the Thames. All this, of course, to highlight the perilous plight of cyclists on the capitals streets ahead of today's House of Commons debate on cycling safety – shockingly, though rather unsurprisingly – the first such debate since 1996.
It is thought that less than 70 of the 650 MPs have signed the Early Day Motion to be discussed and of those only 8 are Conservatives, despite the fact that PM David Cameron is a keen and vocal cyclist himself. The Early Day Motion states:
'That this House believes that cycling is an extremely efficient form of transport which is good for health and the environment; supports successive governments' commitment to encourage the use of bikes and reduce the number of cyclist-related accidents; notes with concern that the number of cyclists killed on Britain's roads rose by 7 per cent. between 2009 and 2010; further notes that a disproportionate number of cycling accidents involve vans and lorries; supports The Times' Cities Fit for Cycling campaign; and calls on the Government to take further action to improve cycling infrastructure and reduce the number of casualties on roads.'
Cyclo will keep you posted.
Photo courtesy of Moritz Waldemeyer. For more information on the "Joy Rider", an exercise in pure minimalism that mounts two LEDs on spokes to paint a smiling face, and his other extraordinary light projects visit www.waldemeyer.com