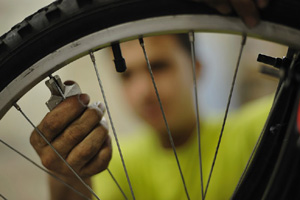 After enormous success in 2011, with an estimated 26,000 bikes fixed at events nationwide, Bike Week is once again hosting 'Britain's Biggest Bike Fix' – an ambitious attempt to fix as many bikes as possible during one week. Set to take place June 16-24 it will be the UK's biggest mass participation cycling event with the ambition of matching the 2011 total with some 50,000 languishing bikes repaired in all.
'Britain's Biggest Bike Fix proved a phenomenal success last year and we're determined to make this year's activity even more successful for everyone', comments Phillip Darnton of the Bicycle Association, 'Regular cyclists and the thousands who have a bike in their shed which just needs making road worthy. There are bike fix events across the UK, so find one near you and make the most out of the expertise on offer. If you run a cycle shop, do get involved in a local event – it's a great way to meet new customers and raise your profile.'
The event is designed to be part of a wider 'Summer of Cycling' intended to encourage a massive cycling renaissance in the UK. To find out how your organisation can support Britain's Biggest Bike Fix, visit www.bikeweek.org.uk.