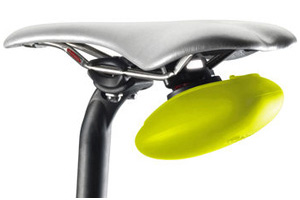 Italian manufacturer Scicon have been developing and innovating bags and panniers for more than thirty years and with the Aeronaut Aero Saddle Bag they really seem to have come up with something radically different. With smooth lines, pod-like construction and minimalist colour options (black or yellow, thank you very much) the Aeronaut looks like a bike accessory designed specifically for the iPad generation. But besides the aesthetics – and this could be the first time you were ever on the receiving end of a jealous look at your saddle bag – does it all really stack up?
If you are looking for absolute minimalist packing then yes, this could be for you; but the claim to fit even just an inner tube, tyre levers and a multi-tool seems over-egged by at least a multi-tools-worth. Space is at a premium here (0.6liter capacity) and at just 13x8x5cm there is very little wiggle-room to squeeze everything in; certainly if you are the pernickety type that prefers to keep your spare inner boxed to avoid creases and snags, you can pretty much forget it.
Space-moan aside (and after all you know what you are getting into with a bag this size) the Aeronaut still has plenty to recommend it. Like its predecessors – the similarly sized Scicon Hipo 550 for example – the Aeronaut uses the Roller 2.1 Fitting System, which attaches to any size seat rail in a matter of minutes with the minimum of clicks and twists and without the need for tools. Once in place the bag itself fits snugly to the system with a simple place-n-twist. Long gone the need for fiddly Velcro straps and doo-dahs more likely to scuff your carbon.
Aerodynamics is the big selling point with this bag with Scicon going with this loveably bombastic description: 'Smooth surfaces and rational round geometry minimize significantly drag coefficient improving performance and flow speed.' Undeniably true, the combination of fiberglass hard shell and stretchy silicon skin make for some very smooth lines indeed and whilst Cyclo probably needs a wind-tunnel and impressively accurate stop-watch to test by how much our 'drag coefficient' has improved, we guess that every little helps. In actual fact, the biggest advantages (and ones possibly closer to most weekend warriors' hearts) is that everything stays safely put and the bag wipes clean far easier than anything we've tried before.
So, whilst we won't – indeed can't – stash away endless bars and gels in this bag, Cyclo can't help admire the lovely looks and neat design elements that make up the competitively priced (£20) Aeronaut.