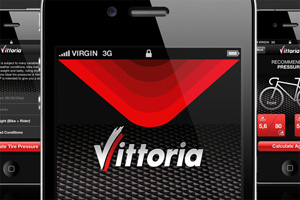 Smartphones have become so ubiquitous and so, well, smart that it's sometimes easy to take a new app's description at literal face-value; Take the iTire Pressure app from renown Italian manufacturer Vittoria, which promises to calculate desired tire pressures whatever the conditions; how could that possibly work? Use your smartphone's camera to take a picture of the wheel and let the app compare it to an exhaustive database? Record the sound of air rushing out of the valve until the pitch is just right? Of course the answer is both more mundane and more practical than that.
Download the free app, fire it up, enter some data and hit 'Calculate Tire Pressure'; the results display for front and back in both BAR and PSI. This works for road and mountain bikes – the choice having been made on opening screen – asking for input in four fields (dependent on Bike/MTB) such as 'Casting', 'Version', 'Combined Weight (Bike + Rider)' and, finally, 'Road Conditions'.
The iTire works absolutely perfectly but is depended on two crucial (and fairly obvious) things. Firstly this is not aimed at the absolute novice or casual rider who is unlikely to know what ETRTO size is or if their casing is 'Nylon 60tpi' or 'Corespun 290'. Secondly that you have the ability to actually measure your pressure, something only usually found in your garage/base pump on the likes of the LifeLine High Pressure Floor Pump (a Cyclo favourite.) These are mere quibbles; if you're likely to find this app of value you are also likely to have both the knowledge and the kit to put it to use.
The app is available for iPhone and Android from www.vittoria.com