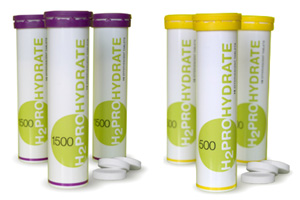 Good hydration is – as Cyclo is so often at pains to highlight – vital to good performance, fail to hydrate and you will ride sub-standard. But hydration isn't just about replacing volume lost to sweating; it's about replacing elements, such as sodium, calcium, magnesium and potassium, too and the more accurately to can target these levels the better. This could well be were a new range of products called H2ProHydrate comes in.
Unlike most 'salt' replacement tablets H2Pro comes in a range of four 'strengths': 250, 500, 1000 and 1500 each designed for either different levels of excursion or sweat rate. An individual's sweat rate (how much of these elements we lose per hour) can either be roughly self-calculated or more highly measured by undergoing a quick and painless test at one of the centres currently offering the service in the UK – see www.myh2pro.com for details. Once measured it is simply a case of picking which of the four tablet strengths best matches the results.
Even without undergoing the test the H2Pro tablets can be employed as highly affective hydration solutions. The 250s are used as a general 'day to day' tablet and the 500s more closely match the levels of most electrolyte sports drinks – both can be useful therefore in keeping levels stable in the lead up to a sportive or hard training session; whilst the 1000 and 1500s are more appropriate for high sweat sodium loss individuals (as identified by testing) or for longer/hotter rides and multi-day events.
With a crisp, very slightly citrus taste that isn't overpoweringly 'salty' H2Pro has tested well with Cyclo having used both the 500s as background hydration and the 1000 strength as an on-the-bike electrolyte and post-ride re-hydrator. Both the 250s and 500s cost £6.99 for 15 tabs, whilst the 1000s and 1500s come in at the same price for 10. Further information and online ordering via www.myh2pro.com
For more information on hydration read the Cyclo feature Cyclists: Don't Sweat It here.