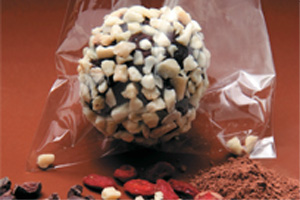 How often can you say that a power-boosting energy snack tastes good, let alone fantastic? Hold that thought and add to it the number of times you have said, 'man, that snack tasted so nice I'm going to send some as a present to the wife/husband/bank manager…' Well it seems that the Gorgeous Chocolate Heart Company have achieved the seemingly impossible with their range of extraordinary raw energy confections designed to both boost performance and tickle the taste buds in equal measure. Meet the Raw Chocolate Energy Balls…
Weighing in at 40g and looking like a chocolate truffle on steroids (though obviously  containing no such thing) the range consists of four options: Spiraball, Berriball, Buziball and the Lovebite Ball; all incorporate 100% natural ingredients including raw chocolate (in the form of cacao powder and butter), which unlike most conventional chocolate isn't processed or roasted, leaving it – and the other ingredients, rich in easily assimilated nutrients, minerals and vitamins. The Spiraball adds spirulina and figs to the mix, whilst the Buziball has goji berries and maca (lepidium meyenii), the Berriball adds cranberries and chia seeds (to provide omega3) and the Lovebite contains both ginseng and guarana. With the latter suggesting 'libido raising' properties it might be best to pass on this one on the bike where lycra leaves little room for, ahem, growth.
All joking aside, the range delivers excellent power-boosting properties, certainly in line with plenty of commercially available (and less palatable) traditional gels and bars. Take the Buziball for example which delivers 153kcal from 17.4g of carbs (14.8g of which derives from sugars) and mixes in a healthy dose of 3g of protein to help, amongst other things, metabolise the energy faster. A bigger jag of protein can be found in the Spiraball (4.3g) and all four provided an excellent lift on Cyclo's test rides.
Yes, you're unlikely to switch your entire nutritional strategy on the bike to one made up entirely of raw chocolate truffles, but on long events mixing up the intake is desirable and the Gorgeous Chocolate Heart Company provides a way of lifting both spirit and performance all at once. Go on, treat yourself…
Wheat, dairy, sugar and gluten free the range is available in a growing range of high street health food shops or via the website chocheart.co.uk £8.00 for four of the same or one of each, including UK P&P.