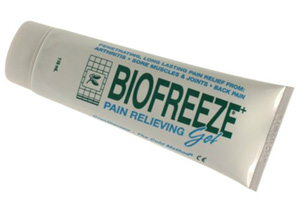 It's a fact that the quicker an injury can be treated the better and invariably with muscle pulls, strains and aches that treatment will begin with cooling. Of course in the real world, and particularly out on the road, access to an ice-pack is limited which is where Biofreeze Gel may well comes in.
Although also available in larger 32 and 16oz sizes, the more pocket-friendly 4oz size is perfect for longer rides and sportives; a useful addition to any first aid kit. Alcohol-based Biofreeze uses menthol as it's active ingredient which works (through a process know as 'gating') by stimulating sensory receptors in the skin, thereby blocking other (pain-related) receptors and effectively tricking the brain into believing there is nothing to worry about.
Although nowhere near as effective, particularly longer-term, as choosing a gel or cream that contains non-steroidal anti-inflammatory drugs – often known as NSAIDs – Cyclo certainly found that Biofreeze brought fast and effective relief to both calf pain and post ride plantar aches. The cooling effect felt relatively short lived but seems more than adequate for quenching that initial stab of pain or low-level throb. There is also something to me said for the simple curative effect of 'rubbing in', a massaged muscle or well thumbed tendon will respond quickly, which is why we certainly prefer the gel version to either the spray or roll-on options, although the latter works well for applying pressure on application to larger muscle groups.
Ice-packs and coolant bandages such as Physicool undoubtedly deliver longer-lasting results and NSAIDs will work harder for rehabilitation and in treating more serious conditions, but as a quick, easily transported fix Biofreeze Gel has much to recommend it.
Widely available, the 4oz (118ml) gel retails at around the £9.99 mark on the high street, but is available for £7.45 online via www.biofreeze.co.uk although shipping costs of £3.95 apply for orders up to £36 making this best as a bulk buy option.