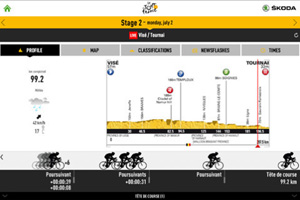 Looks like Cyclo spoke too soon this year when we said there wasn't an official Tour de France 2012 app (for iPhone/iPad); at the eleventh hour one has appeared, but has it improved over last year's bug-ridden crashtastrophe?
Given the paucity of effort that had gone into last year's app things could surely only be an improvement; and so it's proved to be. Looking like it has been reworked from the ground up, this has yet to crash three days in, which, give or take, is three days longer than the 2011 app.
The opening menu offers up four main choices: Standings, Route, Teams and Photos/Videos – all pretty self explanatory. Standings runs the user through all the general classifications (individual, sprinter, team, etc.) and lists current withdrawals, whilst the Teams tab takes you through each team and, via sub menus, individual rider information, although this is fairly limited rather than full biog. The Photos/Videos option is an extensive gallery which is added to and updated daily with a combination of pictures, interviews and mini-features but it's vital to note that a wi-fi connection is required here (as elsewhere) to view anything. Anyone assuming they are looking at embedded content could end up with a truly shocking data roaming bill by the end of the TdF.
The hub of the action – and where this app really comes into its own – is in the Route tab. Maps and profiles of each stage are listed along with neat little write-ups on each start/end location, which seem scooped from local tourist offices and come complete with some wonderfully florid language; all adding something of a homely touch to what otherwise could be a technical exercise in number crunching. Start and checkpoint times (estimated across a range of predicted speeds) are given for upcoming stages and the ability to track riders live during a stage has, thus far at least, proven stable and useful if you don't have access to TV.
Two downfalls of the app, one minor, one downright annoying. The minor niggle is that the 'start town' icon on the route maps and profiles looks exactly like a 'play' button, so no matter how many times we try to remember that it doesn't actually do anything here at Cyclo we keep jabbing a sweaty finger at it anyway. Far more annoying is that once a stage has been completed all the map, profile and highlights information is no longer available; replaced instead by results and interviews. A separate results section and or sub-menu would surely be preferable, and the Profile option that appears once a stage has been run just produces a half-rendered graphic…
So, not perfect and certainly some issues to sort for the 2013 app, but with such a quantum-leap improvement from last year's dismal effort that this positively shines in comparison. At 69p – compared to last year's hefty £2.99 – good value for money too.