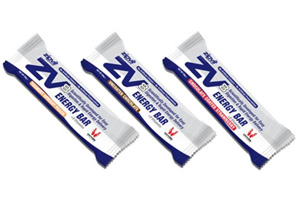 An energy bar packed full of goodness, but almost inedible, is useless. A tasty energy bar so dry it feels you've had all the moisture sucked from your body (you know the kind) is equally useless. Step forward the ZV8 Energy Bar from ZipVit – rammed to the rafters with goodness, a range of delectable flavours and almost as juicy as heading straight for a jaffa.
Taste, of course, is a matter of preference but with a range that incorporates banana, orange, chocolate, yoghurt coated peach and apricot and chocolate coated strawberry there is probably something here for everyone. The flavours are vibrant without being overpowering and despite being marketed more towards the 'sciency' end of the spectrum there is something of a home-spun taste that perfectly balances sharp tang with sweeter fruits – even the chocolate coated option manages to avoid being sickly sweet. The juiciness is the really big selling point for Cyclo. So often on the bike we are left scrabbling for the water bottle to help wash down a bar that it comes as an real treat to discover a product that almost feels as if it's actively helping, rather than hindering, the hydration strategy.
In terms of 'goodness' the ZV8 is second to none. Delivering easily digested carbohydrate energy with the addition of 9 supplementary vitamins (Bs 1, 2 and 3, plus C and E amongst them). Exact levels vary slightly between varieties, but taking the uncoated orange as an example the ZV8 will deliver 244kcal, 4,7g of protein, 34.9g of carbs (21.3g sugar, 7.2g of fat of which 0.7g is saturated) per 65g bar.
Hard to fault and easy to eat, the ZV8 may well be the Cyclo taste of the summer (should the summer ever actually arrive…) Available individually, but bulk purchasing at around the £25 mark for 20 bars makes sense to us.