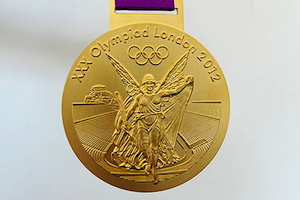 Thanks in no small part to Dave Brailsford's leadership since 2000 the GB cycling team seem destined to outdo even their historic feats in Beijing. UK Sports, and the press, predicted 6 gold medals in this Olympics and up to 12 medals in total. With 12 events still to go the team have already bagged 4 golds and 6 medals in total. That's almost half way to the Bejing total of 8 and 14. And there's still 14 events to go.
The GB team finished top of the Road medal table and are currently top of the Track table. The Road events finished with 3 medals: Gold for Wiggins, Silver for Lizzie Armitstead and Bronze for Chris Froome. The Track has seen 3 Golds to Germany's 1, with more expected over the next four days. If this form continues the cyclists will have contributed 25% of the UK Sport target (48 medals) for the entire games.
As we said, at the top the real star is, in Cyclo's opinion, British Cycling coach Brailsford. He arrived at the same time as lottery funding and constructed a team capable of winning Gold in Athens. With 4 medals in the bag he built on that success and more than tripled the haul in Beijing. Add the World Championship for Mark Cavendish and the Tour de France for Wiggins and the level of sustained success is just staggering.
Maybe the secret is the level-headed approach to his work. Every time he appears on TV during these games he seems to be not only the most informed (not difficult) but the calmest. His response to the witch-hunt over the failure of Cavendish to win the Men's Road Race was a case in point. However many times he was asked he repeated that cycling's a funny old game and they 'would have done it the same way' if they could do it again.
To sum him up – 'We work out what we think is the best possible time that we can achieve, and if we get that, and then someone comes along and is four seconds quicker, we have to accept that we just didn't have the riders to do that.' Ice Cold….
PS. Just watching Jason Kenny break the World Record in the sprint qualifiers.