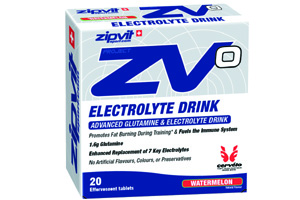 Frequent readers of Cyclo will have noticed that we're hot on good hydration. If you also spotted our recent review of ZipVit ZV8 Energy Bars it will come as no surprise that we have turned our attention to ZV0, the same company's sports electrolyte drink.
Initially developed to meet the demands of Cervelo Test Team riders, ZipVit ZV0 combines seven key electrolytes to replace those lost through sweat with L- Glutamine, an amino acid whose dietary sources include everything from beef to dairy products, which some (so far quite limited) research suggests can boost the immune system and aid fatigue. These individually wrapped, effervescent, tablets dissolve on 500-750ml of plain water and low calorie (just over 12kcal per serving) and formulated as low-carbohydrate (0.28g) which may also help burn body fat more efficiently during prolonged exercise.
Whilst difficult to swear to their efficiency with regards to either fat-burning or immunity building, the ZV0s certainly deliver on the rehydration front and, crucially, taste pretty good too. Free from artificial colours and flavours, the original Watermelon option tastes refreshing (oddly more like cucumber though, we thought) and does a reasonable job of masking the slightly 'salty' taste, but by far Cyclo's favourite is the all-new Cherry flavour, one of the best tasting electrolytes we've tested to date.
If you're looking for pure and unadulterated rehydration something more along the lines of Elete Water might suit, but if you want that little extra (and a great taste to boot) then ZV0 is an excellent option. Ł7.99 buys 20 tabs, enough to make between 10 and 15litres of drink. Further information and online sales at zipvitsport.co.uk