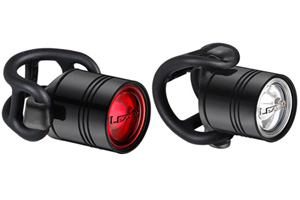 We hate to say it but the nights are drawing in aren't they? Time then for all sensible cyclists to have their thoughts turn to safety and lighting and here at Cyclo we've been having fun playing with the oh-so-cute (but at the same time deeply practical) Lezyne Femto Drive LED lights.
Barely 5 years old as a company, Lezyne's express goal was and remains, '…to engineer and produce premium quality accessories that meet the same high standards as high-end bicycle components'. With the Femto Drives they have combined their passion for design aesthetics (these are as close to a thing of beauty as a simple bike light could be), with an impressively functional approach and a careful eye to cost, coming in at a reasonable £12.99 for a single front/rear or £21.99 a pair.
The machined aluminum body, durable and Brit-weather resistant, is just 30mm long with the unit coming in at sub-25mm diameter, small and light enough (29g with bracket) for tucking into a jersey pocket, meaning there can never be an excuse for getting caught out at dusk ill-prepared again. Although not brilliantly bright – 15 lumens front and 7 lumens rear – the crisp, clear quality makes them seem more powerful than mere numbers suggest and with five modes (flash, slow flash, rapid flash, strobe and solid) are hard to fault as backup or additional lighting. Turning the Femtos on and off and switching between modes involves pressing and holding the lens directly, ideal for tackling in gloves, but, given Cyclo's reluctance to ever read instructions, something it took us longer than we care to admit to figure out.
The Femtos use a nifty silicon sling bracket, one end of which attaches semi-permanently to the light's asymmetric hooks, to wrap around and hold pretty much any part of the bike. This quick fix option, with a wealth of permutations, is a key selling point and improves over, say, Knog Frogs or NiteRiders – the alternatives they most closely resemble.
The only (very) minor gripe Cyclo has is that battery insertion (two x replaceable CR2032 batteries per light) is slightly fiddly with the screw thread having a tendency to cross, but weigh this against their plus points – durability, practicality, ease of fit, gorgeous looks – and it's easy to forgive.
Available in anodised black, silver, red or blue the Lezyne Femto Drive LEDs are widely available including from Wiggle.co.uk