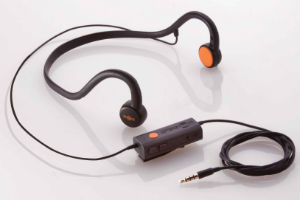 Where do you stand on the issue of listening to music whilst cycling? It's a divisive subject, one that splits riders almost as equally as the great helmet debate, but what is certain is that if you do want to while away those saddle-hours to thumping tunes (or some Kenny G) then you'll be a whole heap safer using AfterShokz Sportz 2 headphones.
The reason for this is simple: rather than plugging into (and therefore blocking) you ears, AfterShokz use bone conduction technology – the kind used by 'special forces ops' apparently – to deliver sound through the cheekbones to the inner ear, leaving the way clear for riders to hear traffic and other crucial audio cues. Held in place by a rigid, but perfectly comfortable headband, the buds sit just in front of the ears and the quality and clarity of sound is remarkably good – slightly on the tinny side, but then no one is arguing that the bike is the perfect spot of picking up every nuance of your favourite tracks.
The new Mark 2 model features an impressive 21 improvements over the earlier device, itself already pretty damn good, and several of these are immediately apparent. Sleeker (and blacker) than its predecessors, with a reflective safety strip thrown in for good measure, the aesthetic improvements continue through to the in-line controller, which is now smaller and far less of an ugly box.
Love them or hate them, the in-line controller is something of a necessity as the tech requires its own power to deliver the bone conduction sound and it houses, along with the obvious volume controls, the rechargeable lithium ion battery that facilitates this. Powered-up via micro-USB (another improvement over the original fiddly arrangement), the battery promises up to 12 hours of playback from a three hour charge – this can vary, we found, depending on the level of volume used.
Under test Cyclo found the AfterShokz to be undeniably comfortable (weighing in at around 45g) and, perhaps more importantly, stayed absolutely put even with some (unintentional, don't ask…) off-road action that rattled the bones, but left the music still serving as a soundtrack to our misfortunes. Being able to still hear and react to ambient sound whilst enjoying music on the ride was a true revelation and has gone a long way towards changing our minds about the possible distraction of ride play-lists. If you like music on the move then the AfterShokz Sportz 2 are an essential bit of kit.
Priced at 49.96 (ex VAT) – further information and online purchase at aftershokz.co.uk