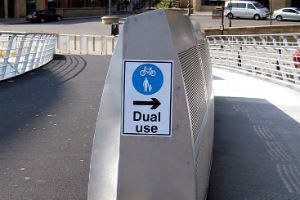 A vocal advocate for cyclists' needs, Labour's Maria Eagle MP is passionate about getting the country truly fit for life again and with recent – and very public – backing from party leader Ed Miliband, this seemed like an ideal time to catch up with her and talk 'two wheels good'. In this second part of our Q&A with the Shadow Secretary of State for Transport we talk funding, health benefits and cycle helmets…
Cyclo: You have said that 'Councils should also be supported to extend 20mph zones in residential areas and the axed ring-fenced road safety grants to local authorities should be restored.' How could this be funded when budgets are already so tight?
Maria Eagle: It's absolutely right that there would be significant pressures on public spending whoever was in government because of the legacy of the banking crash which has left a deficit that needs to be brought down. That's why, for example, I have not opposed more than half of the £9bn of cuts to transport spending being enacted by the Government. However, it's about priorities. I have agreed with the decision to axe £3bn from the budget for road building, while opposing the speed and scale of cuts for local transport. Some of the decisions that the Government has taken are nothing to do with money, but dogma.
Cyclo: Can you give us an example?
Maria Eagle: I think it's a huge mistake to have axed national targets to cut deaths and serious injuries on our roads which really focused minds on improving safety. The decision to allow longer HGVs on our roads and to increase the speed limit for HGVs on single carriageways are very worrying when we know the disproportionate number of deaths and injuries amongst cyclists caused by lorries.
Cyclo: It has been reported that the health benefits of cycling out way the risks 20 times, how can we promote that simple fact?
Maria Eagle: The benefits of cycling are clear. Someone who cycles regularly in mid-adulthood typically has a level of fitness equivalent to being 10 years younger, and a life expectancy two years above the average…
Cyclo: Mikael Colville-Anderse calls the bicycle, '…the most potent medicine we possess'. (see his TED Talk here).
Maria Eagle: Increasing levels of physical activity can have significant health benefits, yet two-thirds of adults don't achieve the minimum recommended amount of physical activity. We need a more joined up approach between Government departments to get this message across – promoting cycling should be as much an aim of the Department for Health as the Department for Transport.
Cyclo: Ed Miliband has been vocal recently in backing your position – how does this move things on and what are the next steps?
Maria Eagle: Ed has been very clear that he is personally 100% behind my determination to give cycling a much higher profile within Labour's approach to transport. He has personally backed The Times' Cities Fit for Cyclists campaign. As Ed has said, his wife Justine is a cyclist in London and this has added to his own understanding of the need to urgently take steps to improve the safety of cyclists.
Cyclo: But as the opposition party, what can be done in practical terms to begin implementing change to ensure a safer future for cyclists?
Maria Eagle: There are a number of things that I believe we can do in opposition. First, we can ensure that if we win the next election we already have a carefully worked through plan for cycling so we don't waste time when we are in government. I want to make an immediate start after the election if we win to raise the importance of cycling within the DfT.
For example, as a start I will immediately review planned expenditure on roads to reallocate funding to cycling infrastructure, restore targets to cut deaths and serious injuries, require Cycling Safety Assessments of all transport schemes and put support for cycling proficiency on a long term footing.
Also, we can keep up our pressure on the Government to do more over the next two years. I believe this has already had some notable successes, including the Government's u-turn on the dedicated funding for cycling, which they scrapped after the election. They axed £80million a year and after two years without a fund in place have now announced £15million of funding to tackle dangerous junctions and improve safety – that's not enough but it's a start and shows what campaigning can do.
Cyclo: And, for now, what about at a council level?
Maria Eagle: I want to see Labour councils taking action to make cycling a real priority. It's tough when the Government is cutting their funding by 28%, but within the incredibly difficult circumstances in which they are operating, I have called on our Council Leaders to demonstrate a real commitment to promoting cycling and, in particular, to improving safety – especially at dangerous junctions. As a first step, councils should be ensuring they know – not least by talking to cyclists – which are the priorities for action and have a plan in place to tackle them.
Cyclo: Compulsory cycling helmets are a perennially thorny issue and massively divisive. What are your thoughts on the subject?
I do not support making the wearing of a cycle helmet compulsory and this is not going to be something we will pursue in Government if we win the election. In the same way I wouldn't propose to make it compulsory to wear a helmet when driving, even though it no doubt could also offer protection in the event of a crash. There is obviously a role for helmets in protecting from head injuries and I would of course encourage people to wear a helmet, particularly children and young people.
However, all the evidence shows that compulsion has a disastrous effect on the numbers of people cycling, with all the worse health impacts of reduced activity. Of course, many injuries and tragic deaths are not caused by trauma to the head but, for example, crush injuries which a helmet cannot prevent. That's why we need to focus on proper separated cycling infrastructure, safer junctions where shared road space is necessary, lower speed limits in residential areas and getting more freight off the roads and onto rail.
Finally, I want to see a review of the sentencing guidelines as they relate to serious injuries resulting from vehicles on the road. There are real concerns at cases where the penalties for causing hurt or serious injury to cyclists are not adequate or sending a clear enough signal to motorists.
For more on this subject see:
Maria Eagle MP: Speech during parliamentary debate on Cycling (February 2012) here.
Maria Eagle MP: Speech to Labour Party conference (October 2012) here.
Lilian Greenwood MP: Speech during parliamentary debate on Cycling Safety (November 2012) here.
You can read part 1 of our Q&A with Maria Eagle MP here.