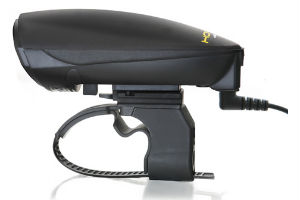 Seldom, if ever, has a product divided Cyclo quite so much as The Hornit. At dB140 it is the loudest cycle horn on the market; the developer (an ex-lawyer) set to work on the unit after five years of commuting by bike through London traffic and is at pains to point out that it is for use in emergency situations only rather than day-to-day use or as a replacement for the humble bell.
The unit comes in two parts, the main horn unit, which houses the two AAA batteries used to power its mega-blast, and the rubberised trigger, which connects to it via a short lead.
In an emergency, yes we can see some value here.† According to the Royal Society for the Prevention of Accidents (RoSPA) 80% of cycle accidents occur in daylight and 75% occur at, or near, a road junction; having something like The Hornit at hand (or more accurately at finger) could give cycling commuters the edge when it comes to such situations. The temptation though would be to use the horn in non-emergency situations, when dB140 would be nothing short of a rude slanging match. dB140, letís be clear, is the loudest recommended for exposure to with hearing protection and even short term exposure can cause permanent damage to hearing. Granted exposure isnít going to be anything but short, but this is still equivalent to the noise a jet engine would make at less than 100foot.
This is probably a true Marmite product and if you want to add a dash of reassurance to your commuter bike (youíre unlikely to fit it to your 5k carbon beast) and think you can resist the temptation of just scaring the hell out of wayward pedestrians, then The Hornit may be for you. We canít help thinking that even the name sounds aggressive (and as it comes from the less than tactile-sounding Bullet Ventures Ltd, they arenít doing themselves any favours), and one last thing to consider: the connector on the lead going into the main horn unit is incredibly prone to simply falling out Ė it jumped out three times on test rides with Cyclo Ė so the unit may not even be there for you to rely on just when you need it most.
The Hornit costs £34.99, further details and online purchase at thehornit.com