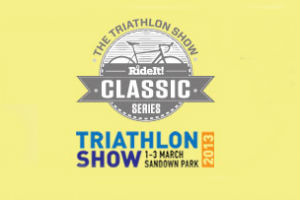 Evans Cycles will be offering visitors to the Triathlon Show 2013 – which takes place at Sandown Park this Friday to Sunday (March 1-3) – the chance to get a leg-testing ride in before they head to the trade stands. £17 buys entry to the show as well as a fully marked and supported ride around the North Downs with routes, for the Saturday and Sunday only, of 30, 50 and 70miles on offer. Those looking for a shorter two-wheeled blast can take the 15mile option for just £10 (including show entry) and children ride free across all routes on the condition they are accompanied by a full paying adult.
The RideIt! series is managed by Evans Cycles in-house, and event organiser Dean Stacey plans all of the routes himself; he says: 'We run these events because we're passionate about getting people out on their bikes, and riding. RideIt! events make a day out on the bike totally hassle free – you're route is planned, feedstations make sure you've got all the nutrition you need, and you automatically get yourself a full field of ride buddies! We make a day spent on the bike easy, and we do it for the best price available in the UK…'
Pre entry closes tonight (Wednesday, February 27), but if places remain they will be available on the day at an additional £3 – for details and entry see evanscycles.com
Exhibitors across the three days include Cycle-Works, CompresSport (see our review of their B.Sock ProRacing Sock here), Cervélo, Bikebox, Carbon Bike Solutions, Lezyne (Femto Drive LED review here) and many more, whilst The Surrey Human Performance Institute will be offering discounted VO2max tests and Precision Hydration sweat testing – you can read our interview with Precision Hydration's Andy Blow here.
For full details of the Triathlon Show 2013, visit triathlonshow.co.uk