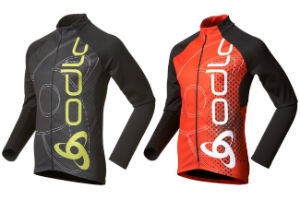 When it comes to cycling jackets there seem to be as many options, permutations and styles as there are routes and roads to ride – but the Odlo Trail Jacket, a full-zipped high-collar, is distinctive enough to stand out amongst the crowd in more ways than one. Odlo have been around since the 1940s and hailing from Norway, a country not noted for its balmy weather, you would expect them to know a thing or two about keeping their customers warm. And so it is with the Odlo Trail Jacket.
The fine mesh material (the whole jacket is 100% polyester) does an excellent job of venting yet keeping chill at bay even at speed on the bike; the front inner panels have a softer almost fleecy-quality that further help to keep wind in check, whilst the cuffs and waistband, although not elasticated, are snug enough to help here too.
The fit is close yet comfortable – available in S to XL – but doesn't feel constrictive in the least, always a bonus given the near-straightjacket qualities of some jackets we've tried over the years. The full-length zip is really the only snagging point we found; it features a good-on-paper 'parking garage' at both the top and bottom to keep the zipper in place, but this proved more than a little fiddly to negotiate, particularly in the saddle and especially one-handed. No such problem with the zipped (non-'garaged') rear pocket – generous in size and easily accessed.
That small main zip gripe aside the Odlo Trail Jacket was a pleasure to ride in – the styling is bold, verging on the brash but, so long as you don't mind the fully emblazoned look (we rather liked it), then it's a pleasure to wear. Arguably more a BMX, MTB or trail jacket (as the name implies) – perhaps because the styling has a slightly punk/skate attitude – there's nothing to stop you wearing this on the road – and indeed much to recommend you do.  Odlo founder Odd Roar Lofterød apparently lived by the legend 'always make sure you're one step ahead' – we rather like that. We rather like his name and jackets too.
Online prices seem to vary wildly – ranging from around £80 to well over £100 – so it clearly pays to shop around; odlo.com features a comprehensive store locator if you prefer shopping in the real world.