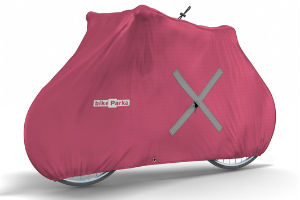 Keeping your bike safe against the ravages and vagaries of the British weather is an undeniably sensible step, granted it's not the most exciting of purchases you are likely to make, but… well, certainly sensible. BikeParka – who have definitely nabbed the best possible name for their neatly designed bike covers – offer something a little extra too; Cyclo put them to the test.
Shipped in a handy and sturdy 'stuff sac' – which could really only be improved with the addition of some compression straps to further reduce their footprint in a pannier or cycling pack – the BikeParka comes in two varieties; the standard Stash and the more fully-loaded Urban which includes Velcro lock-through panels for securing the cover to the bike and ultimately the bike to something solid when you're out and about.
These are one-size-fits-all solutions measuring 205cm x 125cm which can be toggled and adjusted for a wide variety of bikes and, once you have the hang of it, are a breeze to fit. Of course 'once you have the hang of it' is the key here – we're the first to admit we're not much into reading instructions or, as it turned out, looking at the pictures – but you do need to know there's a front and back, so you don't make fools of yourself like us. To employ a tent comparison, it's probably best to try this out in the privacy of the garden/drive the first time out, after which things are simple enough: put the front (not the back) of the BikeParka under your front wheel and basically drive over it and pull to fit.
The Urban BikeParka weighs a little over 450g (the Stash lighter at 400g, but it's less likely to be transported anyway) and both are made from tough Polyester Ripstop fabric, that won't stretch and sag, and features a Polyurethane coating for wind- and rain-proofing. In addition they have fully-taped seams to further prevent water getting in, and a UPF factor of 50+ to extend the cover's life and prevent colours from fading.
The basic Stash, available in blue, black, grey or pink, costs £29.95, which stacks up well against the similarly-priced standard Topeak bike covers; whilst the more versatile Urban (ditto on colours) comes in at £39.95; granted not cheap but less than, say, a Scicon Bike Cover (circa £46) which Cyclo wouldn't rate so highly in comparison. The company offers free UK P&P too, which is also to be commended.
Okay, as we said – a bike cover is never going to be the most exciting thing you buy, but if you care about looking after your bike then the BikeParka offers a solid option; nicely designed, well crafted, attractive (for a bike cover…) and absolutely on the money for the level of quality on offer.
Further details of the BikeParka and online purchase at bikeparka.co.uk