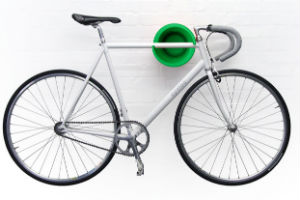 There are two things we always seem to be short of at Cyclo: time and space. Not much we can do about the former, apart from an even early daily alarm call, but the latter has just received a significant boost thanks to Cycloc, an ingenious bike storage solution that shows as much attention to design detail as it does to the practicalities of stashing your beloved ride.
If we were being disingenuous we might describe the Cycloc as 'bucket-like', but the overall impression is really more aesthetically pleasing than that. However, for ease of description, the bucket-like Cycloc is simple enough to install using the template to align the three drill-holes needed to fix it to the wall, drilling, tightening the screws and hiding the fixings away behind a plastic plug cap (which sports a nice bike logo). An end-to-end a job that took us barely five minutes.
The system can accommodate a wide range of bikes, housing a tube
diameter of up to 65mm, taking wider handlebars via an additional (supplied) spacer and even gently cradling carbon frames thanks to integrated rubber contact points. The Cycloc can be mounted to the wall at any angle to support the bike either via the top tube, seat post or diagonal for step-through/women-specific bikes; even folding bikes can be stored; and, if you really wanted to, the bike can even be racked vertically – useful if horizontal space is at a premium.
Additional niceties include plenty of space within the cavity of the Cycloc for stashing gloves, spare inners, small repair kits and the like and an integrated channel lets you use your regular lock to secure the bike to the Cycloc and, in turn, to the wall.
We don't think we ever expected to be waxing lyrical about a simple bike storage solution, but the Cycloc has brought both extra space to our lives and a smile to our face with its winning combination of practicality and aesthetic design. Available in four colours – red, white, green and black or 'popsicle', 'icicle', 'verticle' and 'recycle' as the manufacturers prefer – and carrying an RRP of £59.95 including UK P&P. There may be cheaper alternatives out there, but none that we have found with the same degree of versatility and attention to detail. If you have a bike that you're proud of, why not store it with pride? Using the Cycloc is akin to hanging a fine portrait.
Further information and online orders at cycloc.com – or take a look at the promo video below.