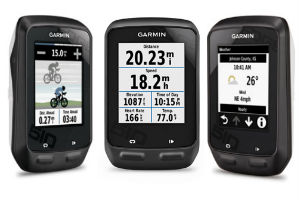 These days it would seem that everything is shared across social networks, from the sublime to the ridiculous ('I got engaged!'… 'I just ate toast!'), however some things we feel are well worth sharing; training plans, routes, results and achievements among them. Enter then the new Edge 510 GPS bike computer, which makes all this – and more – possible, and being from market-leading Garmin, Cyclo took to testing it with more than a hint of anticipation.
The Edge 510, with its touchscreen and colour display (both steps up from the Garmin 500), works in conjunction with two other crucial elements; firstly the Garmin Connect Mobile app for smartphones – free for iPhone and Android – to which the Edge 510 connects via Bluetooth, secondly the online (again free) Garmin Connect dashboard website. More on both in due course…
Out-of-the-box impressions were positive – the 510 is reasonably compact at just 5.2 x 8.6 x 2.4cm and mid-weight at 80g; the screen was clear, bright (and of course colourful) and the glove-friendly touchscreen responsive. Setting-up technical devices for the first time can be daunting, but the Quick Start manual was easy to understand and guided us through the set up, installation and pairing of the Edge 510 to the smartphone (an iPhone in our case) via the bluetooth without any trouble. The app turns the Edge 510 into a truly connected device, capable of sharing activities and data as they happen in real-time and wirelessly uploading workout- and race-relevant data to the Garmin Connect website or downloading courses and routes direct to the device; in short it is the cornerstone of this new model.
With a standard 'quarter turn' mount the Garmin Edge 510 is simple enough to attach to the handlebars using two of the supplied bands, but those who prefer an 'out-front' mounting one is available for an additional £29.99. In either case, and in the event of a spill, the Edge 510 ships with a tether so you shouldn't lose your investment if the worst comes to the worst…
Cyclo appreciates that some GPS devices can struggle to acquire satellite signals, a complete headache when you're itching to get going – or worse racing, but on our tests the Edge 510 acquired the signals quickly and, just as importantly, held it unwaveringly throughout. We were impressed too that the aforementioned glove-friendly touchscreen remained responsive even to the prodding of our thickest winter gloves, delivering additional data pages quickly and, with a fairly generous 4.4 x 3.5cm screen size, serving up something we were actually able to read on the ride.
Live tracking allows friends (rivals?) and family to follow your races and training activity in real time, so long as the app and the Edge 510 are connected. Inviting followers – or 'connections' if 'followers' sounds too messianic for you – using email or social media allows the chosen few to view your live data on the Garmin Connect tracking page, follow your position on a map, and track progress, and once the workout or race is posted to the Garmin Connect site followers can (re)view and comment on them. Naturally you can also share all of this across various social networks, something we personally love to do at Cyclo.
Of course all this extra tech comes at a slight cost above the old 500 – it's naturally both bigger and heavier (the noted 80g compared to the previous model's more svelte 56.7 g) – but the extraordinary amount of functionality for a not unreasonable £249.99 makes for an excellent investment. At around £80 cheaper than the Edge 810, which admittedly adds base maps and data cards amongst other things, this looks like a first-rate option for anyone wanting to up their game with a robust, reliable and very sociable bike computer.
The Garmin Edge 510 is available from, amongst other places online, wiggle.co.uk – for full details and spec of the Edge 510 visit garmin.com or take a look at their video below…