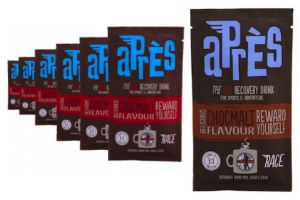 Recovery drinks are, inarguably, an excellent idea after a long training ride or tough sportive – an energy-sapped body benefits from carbohydrate replacement and protein can go to work repairing the damage and getting you set for the next saddle-up. But however much good we know it's doing us, trying to throw down a cold drink at the end of a blisteringly bitter ride is something we have never particularly relished the idea of. If only there was a hot recovery drink we could use… Enter Après, the hot malted chocolate drink that looks to tick all the right boxes.
Après is the brainchild of brothers Luke and Matt Farren who, after a six-hour training ride so cold they report their bidons froze (possibly a painful euphemism) came up with the now seemingly obvious idea of a hot beverage that fulfilled all the requirements of a traditional recovery drink.
Free from artificial colours, flavours and preservatives and made from sustainably produced skimmed milk powder, sugar and cocoa, Après delivers the accepted ideal 3:1 carbohydrate to protein ratio (25.6g carbs, of which 19.2g is sugar, to 8.2g of protein for 40g serving). It also contains a range of vitamins including A, D, E, C, B1, B2, B3, and B6, plus a range of minerals – potassium, magnesium, zinc – likely to have been lost trough sweat even on the coldest or rides. For good measure each serving contains 2g of L-Glutamine, an amino acid that, despite very limited evidence to support any benefit to athletes, continues to find its way into sports products. Still, no harm in hedging of bets and including it here.
Cyclo found that Après mixed quickly and without too much annoying 'clumping' to produce a drink with a good chocolaty taste and a hint of malt that didn't overpower things. Hot water is invariably available at the end of well organised sportive and we found the idea of a hot drink (that was also doing us good) a veritable pick-me-up. It is often suggested that milk-based drinks make for more effective recovery, in part because of the slightly slower absorption rates and natural electrolytes, in which case Après hits another high note. Both malted barley and quality cocoa have well defined antioxidant properties too – more good news for depleted riders.
In comparison to something like the chocolate flavour For Goodness Shakes 3:1 Recovery drink – which comes in larger 72g sachets to mix to a 500ml drink – the numbers stack up like this:
FGS 266.5kcal – Après 142kcal
FGS 16.3 protein – Après 8.2g
FGS 48.9g carbs of which 45.6 sugar – Après 25.6g, 19.2g sugars
FGS 1.2 fat of which .6g saturated – Après 0.8g, 0.4g saturates
FGS 0.1g sodium – Après 0.24g
Vitamin and mineral content varies between the two products on %RDA, and it's vital to remember that these are drinks of different size; that said a drink's a drink so the above figures are a fair indication of what you will be putting down you at the end of a ride. But for our money, on a cold day, Après looks very much like a winning formula.
Après is available in single 40g sachets at £1.99, packs of six at £11.40 and boxes of 15 sachets at £26.99 – free delivery on orders with more details at racewinning.com