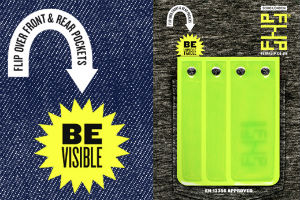 As we never tire of mentioning: being seen at night and in low-light conditions is of paramount importance. Lights, lights and more lights is the sensible mantra but adding as much reflective surface as possible goes a long way to ensuring you (probably) won't become another tragic statistic. An unusual solution has come our way in the form of the FlipFlap, a pocket sized reflective solution with plenty of commuter appeal.
Designed to flip out of front or rear pockets – hence really a commuter option, although arguably a rear race jersey pocket would do – one side of these reflective paddles is rubberised to grip the pocket, whilst the flap which… well, flaps out, is hi-viz, tested to (and exceeding) the EN13356 safety standard. The simplicity here is certainly one of the appeals. Tuck the whole thing back in the pocket when not in use and it's on hand (technically on backside) and ready to be flipped out when set to hit the streets.
£16.95 (plus P&P) might sound a little steep, particularly when you could buy some simple Respro hi-viz stickers for less than £7, but the FlipFlap does offer something more substantial and certainly more portable in the sense that it can obviously be slipped into any pocket for use at any time, rather than permanently adhered.  Additionally the FlipFlap can be cut into smaller panels; on delivery each 'paddle' (two per pack) measures approximately 100x110mm, but by cutting between the sealed guides each can be divided into three reflectives – two of 25mm and one of 50mm; all of which starts looking far more reasonable for the price.
A simple solution to better visibility, the FlipFlap adds a neat little dash of safety to the ride. And for that it should be highly commended.
For further details and online orders see flipflip.co.uk