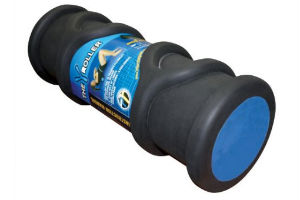 American company Pro-Tec Athletics started out in 1991 with a single product – the Knee Pro-Tec Patella Tendon Strap – before expanding its product offering to include further specialised supports for running injuries; in 2012 they introduced the Y Roller, an elastomer (elastic polymer) constructed massage roller that featured a unique dual-ridge design. At Cyclo we've had plenty of cause to use massage rollers over the years – not least to ease tight IT bands and calf muscles; we put the Y Roller through its paces to see how it measured up.
On initial impressions, the Y Roller looked to be well made, sturdy and firm; the manufacturers claim that the elastomer used is the highest density and most durable foam possible, able to withstand constant, heavy and repeated usage without breaking down.
The unusual design has two parallel ridges each of which splits into two tram-line-like ridges on one side of the roller and remerge into a single ridge on the opposite; Pro-Tec say that the dual/single ridge option offers, 'a targeted aggressive massage' or the ability to '…roll in between ridges for a less aggressive, moderate massage.' What this meant in practical terms was that we could roll our IT band between the dual ridges – which was firm and applied a good amount of pressure – and then slowly rolled the IT band up onto the single ridge to apply a more focused, deeper and better targeted tissue massage.
Initially we confess to having been a little unsure of exactly how to roll effectively over the dual/single ridge design, but the Y Roller comes with an easy to understand guide (and there are some helpful online videos), which shows how to use the roller for different areas of the body. It took a few back-and-forth rolls to get the hang of things, but once mastered never forgotten (appropriately like riding a bike…) The Y Roller works well across other muscle groups; calf, hamstrings, glutes, upper- and lower-back all benefitted, as did the arch of the foot (excellent after extended peddle sessions) and because of the Y Roller's size it easily took care of quadriceps – something lesser rollers can struggle with.
The Y Roller has a diameter of 15cm and is 40cm long, which makes it a little larger than its rival the Trigger Point GRID (12cm/33cm), but comes in at around the same price £38.99. Now we're used to the initially tricky ridge rolling technique the Y Roller could well become our massage tool of choice.
Available from vitalphysio.com, with further information at pro-tecathletics.com and a number of instructional videos online, such as the one below.