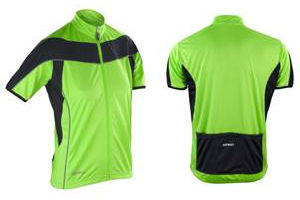 Cycling, we're sure we don't need to tell you, is not necessarily the cheapest of pursuits; bike aside, it's not difficult to find money all-but physically leaking from your pocket once you start to kit up. But can the budget end of the market fulfil anything other than the most basic of requirements? With this question in mind Cyclo took a look at the new Spiro Full Zip Performance Top, a promising looking jersey with a price tag that made for a full-on double-take…
Made from 100% polyester the Spiro Full Zip Performance Top wicks reasonable well in warmer weather but lacking any elastane/Spandex in the mix lacks the closer fit and dynamic movement of more expensive jerseys and as the fabric doesn't incorporate any antibacterial properties it becomes prone to a degree of stink if left to its own devises.
However, the fit – despite the absence of elastic stretch – is surprisingly good; available in S to XXL for men (chest size 37-49inch) and XS to XL for women (UK 8-16) the jersey isn't especially long in the back, but sits well and pretty much stays put thanks to an effective rubberised ridge system at the hem. Despite being reassuringly lightweight, the biggest issue with comfort is the seam quality – you don't need to look inside to judge the bulkiness of stitching, spend a couple of hours on the bike and you'll feel it. We found, even without a substantial sweat factor, and particularly under the arms, that the seam size and quality resulted in mild irritation – bordering on chafing – in the kind of time frame we would barely consider a leg-stretcher. It's probably unreasonable to expect flatlock seams at an entry-level price, but this remained the one area where we felt a case of 'you get what you pay for' came into play.
Two open lumber pocket – not the biggest we've seen, but ample for a gel or two – are complimented by a mid-back zipped pocket for keys/cash and a commendable amount of reflective detailing, particularly in the back, an area sadly lacking in many jerseys we've ridden in. Another welcome addition is UV protection, which never goes amiss. In terms of looks the Spiro Full Zip Performance Top delivers either a black/white or much higher viability green/black combo and complimentary jackets and legwear are available if you fancy building yourself a team kit vibe.
Yes, pros and cons – but the price? Drumroll… £15 for the men's, £13.50 for the women's. That alone almost (almost) nullifies the seam criticism. At this price you could build yourself a near complete kit (shorts £16.50, base layer £5.90) for the cost of most jerseys alone. The Spiro Full Zip Performance Top certainly isn't the most technical or robust jersey available – nor did we expect it to be – but it far outperforms its exceptionally modest price tag
Further information at spiroactivewear.com and online purchase at shop.resultclothing.com