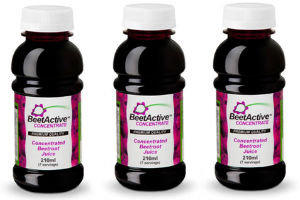 There is strong evidence that beetroot can help to reduce blood pressure; in turn there is a suggestion (not much more than a suggestion until further research is undertaken, to be honest) that this in turn may aid oxygen uptake and thus endurance performance. Either way adding dietary nitrates, in which beetroot is rich, is largely to be commended and one way of doing that is with BeetActive Concentrate.
Made from 100% concentrated beetroot juice, with no added preservatives, BeetActive comes in a 210ml bottle (typically containing the juice of over 30 beetroot), which is diluted to make around two litres of juice. The taste, whilst undeniably 'beetrooty', is sweet and pleasant and has nothing of the unpleasant earthiness that plagues rival product Beet It Sport Shots (read the Cyclo review here). It may still prove something of an acquired taste for some, but if the idea of downing BeetActive as a juice doesn't appeal it also makes an unusual salad dressing when mixed with olive oil and balsamic vinegar…
Whilst (likely) reducing your blood pressure and possibly improving endurance, one thing is for sure: regular use of BeetActive will turn your urine pink – something we found slightly unnerving and not something we'd usually discuss in public. On a more serious note, be aware too that reducing blood pressure, whilst generally considered a good thing, may not be desirable for those already suffering from abnormally low blood pressure (hypotension). As with all supplements, if there's cause for concern, it's always wise to seek advice from a medical professional.
Eating celery, cress, rocket and a host of other green leafy vegetables will all raise dietary nitrates too, but if you're looking for an easy boost then BeetActive is an interesting addition to the arsenal of cyclist's weapons; naturally it also counts towards your 'five a day'. Costing £10.99 for two 210ml bottles (the minimum online order), BeetActive works out to approximately 85p per-day/drink around half the price of a single Beet It Shot. Buying in greater bulk – six or 12 bottles – further reduces the cost.
Details and online purchase at cherryactive.co.uk