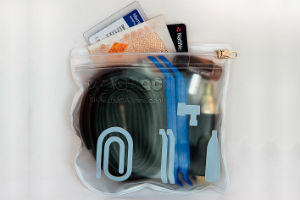 Keeping kit and belongings dry on the bike is a perennial problem and, if legend is to believed, one that caught the attention of two brothers from South Africa – both engineers and keen mountain bikers. Out one day in the bush and caught in a torrential downpour that soaked or diluted everything in their saddlebags and pockets they noticing that the only thing unaffected was the water in their camelbaks; it set them thinking that perhaps using the tech that kept fluid in, could be used to keep fluid out. And so pOcpacs were born.
The pOcpacs range of sealable bike packs are made from recyclable (though not actually recycled) material which has both memory and elasticity, meaning the cases can be filled to the brim and still close effortlessly. The closure is achieved via a fairly standard looking zipped press-seal (with a substantial metal zipper) but unlike many fastenings of this type Cyclo has encountered they stayed firmly and reassuringly shut however much we tried to over-stuff the packs.
pOcpacs are available in three flavours: The Off-Road Pac, the largest at approximately 150x170mm, has a clear plastic divider inside and easily held a multitool, spare inner, puncture kit, gels, wallet, keys and various other cycling detritus. The Road Pac – slightly smaller at approximately 150x140mm – also features an internal divider and neatly fitted an inner, tyre leavers, gels and other odds and ends. Finally the iPac (at 140x95mm) is designed for phones and has the added advantage off allowing full touch-screen functionality without having to remove the phone in adverse weather.
pOcpacs are a neat and functional solution that do one thing and do it extremely well. An obvious benefit is that they can be slipped into a jersey lumber pocket; neatly hold everything together in one place (and keeping them dry as a bone) without the need for saddle- or seatpost bags. The Off-Road and Road Pacs costs £9.99 and the iPac £6.99 and whilst the simple design and branding is fine as is, the manufacturers can also supply them (minimum order of 100 units) branded for clubs or sportive events.
Further details and online orders at thepocpac.co.uk