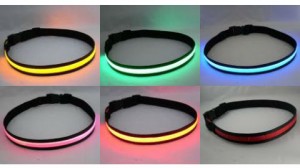 There is much to be said about adding as much visibility as possible on the bike – especially in poor visibility and low light. The Aura Belt is an interesting solution from a new Brit start-up, which looks to address the issue of 360degree visibility; whilst traditional lights (regardless of how many you add) broadly provide illumination front and back, the Aura Belt delivers all-round light and resolves the problem of side-on illumination and protection.
Constructed from high-wearing 'ballistic' nylon, the Aura features an integrated LED strip (powered by a replaceable CR2032 battery) beneath coloured, weather-proof, fabric which switches on via a button next to the clip fastener. Available in six colours – pink, yellow, orange, blue, red, green – the belt can deliver either a fixed 'on' glow or two speeds of pulsing flash. Construction is substantial and it feels built to last, it might not quite be a thing of beauty but in terms of functionality it's spot on.
The Aura Belt currently comes as one-size-fits all, adjustable from 'Women's size UK 4 to men's size 38inch', a good starting point but smaller sizes – specifically for children – would be an excellent addition as would, perhaps, larger ones to accommodate rainy-weather commuters fully layered-up against the elements.
At £25 the Aura Belts are pretty much on the money. There are very few other products on the market that address the 360degree and side-on safety issue (the Nathan LightBender at £20 perhaps or the Fibre Flare Shorty at £27.99 – Cyclo review here) but Aura Belts do it with some style. Expect to see theses in shops soon, but for now they can be ordered at auracyclesystems.co.uk with the addition of £3.50 P&P which covers any number of belts ordered and world-wide delivery.
Cyclo highly recommends Aura Belts – light up and be seen…