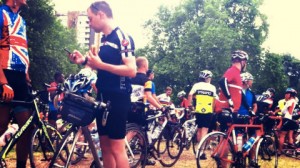 'You can kill time in a number of ways,' said author Martin Amis in his darkly comic murder mystery London Fields, 'but it always depends on the kind of time you're fighting.' True enough, the eight to ten hours ahead gave us pause for thought as we stood in the park in East London that not only gave Amis's novel its name, but was the starting point for the famed 'turn up and go' Dunwich Dynamo.
The Dynamo or 'Dun Run' or, for those looking for real brevity, 'DD' began life twenty years ago as a fun ride undertaken by cycling messengers on fixed-wheeled bikes – at least that's one story; the Dun Run is the kind of ride that's easily mythologized, it's equally possible it was started by wizards on dragon-back. The few facts we knew for sure were that its 200km run goes from London to Dunwich on the Suffolk coast, takes place through the night (it's always staged in July closest to the full moon), and that Cyclo and a small group of friends had entered…
7:30pm: London Fields in the early evening was witness to a gathering of the (cycling) clans; from serious teams in matching kit to Shoreditch hipsters, hardcore messengers to casual cyclists. There were road bikes, off-road bikes, fixies, tandems, recumbents and even some foolhardy fancy dress. As the start time grew nearer thoughts turned to distance and time. Especially time. How long would it take? How would we feel at 3-o-clock in the morning? When to eat, when to drink, when to rest?
8:30pm: We set off through North-East London via Mare Street onto Lea Bridge Road and over the notional barrier of the North Circular; the sight of hundreds of bikes dictating the pace of Saturday evening traffic out of London truly inspiring.
10:30pm: As we rode north through Essex towns by way of Woodford, Epping and Great Dunmow we were treated to a time-lapse of Saturday night in the UK. Scenes moved from 'having a good time', to having a very good time, to having to ask people if they had had good time…
12:30am: After midnight we reached the 'half way' point of Sible Headingham where the village hall had been opened to provide food, drink and the chance to refill bottles. It's quite an operation managed by volunteers and catering for up to 1,500 riders. What they didn't tell us was that it's nearly 10miles short of halfway.
1:30am: Refreshed by the provisions and brief rest we rode through a succession of picture postcard villages like Monks Eleigh, Bildeston, Framlingham into the heart of Suffolk. Small groups were still appearing by the road in folding chairs to clap and shout encouragement.
2:30am: The dark hour. The banter had stopped and everyone had retreated into their own personal world of fatigue. It's the time when you're hanging onto the wheels of small groups to steal a few minutes of recovery, only to (often) lose them on a climb. All we could think about was the next group and another chance to grab a wheel. We focused on the trail of red lights ahead and kept cranking. And cranking.
At this low point things started to turn surreal. An ambulance came out of nowhere and headed back down the road behind us. Rumors started to circulate of someone having gone straight on at a bend and through a hedgerow. Minutes later, while packed into a group of 15-20 riders on a narrow road, a 'semi-pro' team (you know who you are) came past at reckless speed. Shouts went up as someone goes down – there were bikes and bodies flying as the whole group crashed to a stop.
3:30am: It was all beginning to feel a little dangerous. The chances some people were taking, on road surfaces you couldn't judge until it was too late, were alarming. It felt like the right time to stop and calm down. Around the next bend lights flooded the road, someone had turned their front garden into a roadside café. Under a marquee were four kind souls dishing out hot food and drinks. We bought bacon rolls and fresh coffee, sat by the roadside and swapped war stories with strangers.
4:30am: The last, hardest, 15miles as the mizzle increased and the headwind picked up; apparently the worst weather for the event in years. There was a creeping dawn, but no sunrise to lift the spirits.
5:30am: If the towns of the 'Sunrise Coast' of Suffolk were sisters Southwold, to the north, would be the pretty, popular one, Aldeburgh, to the south, would be cultured and rather pleased with herself. The two ugly sisters are Thorpeness, with her Sizewell power station, and Dunwich with nothing but a shingle beach and a once prosperous town lost to the storms of 1286 and 1328. But it was paradise to us as we rolled down onto the beach, greeted by weary cheers from those already there.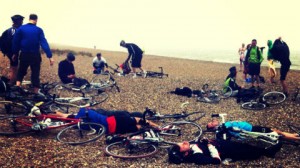 As the beach filled up the queues for food, drinks, toilets, lorries for bikes, coaches for people, got ever longer. No one cared, we weren't going anywhere (yet.) A few braved the dawn water, some unrolled sleeping bags, but most just gazed out to sea and thought about what they had achieved. Conversations turned quickly from the past to the future. 'Would we do the Dunwich Dynamo again?'
Time will tell but at least next year we'll know what kind of time we're fighting.