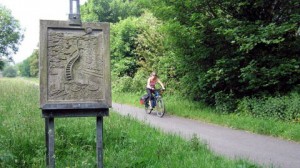 Prime Minister David Cameron has announced that he wants to start 'a cycling revolution' building on the success of the Olympics, Paralympics and two consecutive Tour de France wins. £94m in cycling funding will benefit a number of English cities including Leeds and Bristol and four of our national parks – the Peak District, the South Downs, Dartmoor and the New Forest.
In addition to a commitment to cutting red tape the cities funding (which will total £77m) will be used to both improve existing cycle schemes and fund new routes. By way of example Manchester, the biggest recipient of Department for Transport funding (£20m supplement by £11.1m local contributions) will gain some 56km of new or improved city-wide cycle routes, whilst at the other end of the scale Oxford will see improvements to a single roundabout system funded to the tune of £0.8m TdF money and £0.6m local authority cash. The eight cities receiving DtF funding are: Manchester, Leeds, Birmingham, Newcastle, Bristol, Cambridge, Oxford and Norwich.
The four national parks will share the remaining £17m with the Peak District taking £5m for four new cycle routes, Dartmoor (£4.4m) gaining or seeing improvements to almost 190miles of family-friendly routes, the South Downs gaining 34miles of new routes and improved access (£3.8m), and the New Forest taking £3.6m for docking stations and a new cycling centre.
However not everyone has applauded Cameron's intentions with the charge being led by shadow transport secretary Maria Eagle MP who told the BBC that: 'No amount of cynical spin from David Cameron will make up for the fact that, immediately on taking office, he axed Cycle England, the Cycle Demonstration Towns scheme and the annual £60m budget to support cycling that he inherited.' Eagle also points out: 'Only last month the prime minister set out plans for Britain's roads that failed to include a single commitment to the investment in separated cycling infrastructure that is the best way to boost cycling and make it
For an interesting take on the announcement see Peter Walker's excellent Bike Blog from The Guardian here and to read Cyclo's Interview with Maria Eagle MP click here.