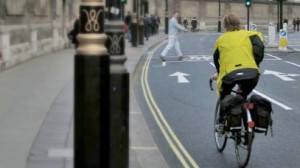 An as-yet unnamed man, thought to be in his mid-60s, has become the sixth cycling fatality in 13 days on the roads of London – the 14th death of the year. The crash, between cyclist and lorry, happened at around noon at the junction of Camberwell and Albany Roads. Of the 14 fatalities in 2013 nine have involved HGVs and the latest in an area where council leader Peter John had previously called for their banning during rush hour to create a safer environment for cyclists.
The accident happened at the same time as Metropolitan Police traffic officers were giving safety advice to both cyclists and lorry drivers across the Capital including at Whitechapel High Street and Vauxhall Bridge Road. In excess of 100 cyclists had been stopped at Vauxhall Bridge alone to be warned over unsafe behaviour, which reportedly included the wearing of headphones.
The five other cyclists who have died in the last two weeks in London are: Francis Golding, Brian Holt, Roger William De Klerk, Venera Minakhmetova, a man whose name has not been released.