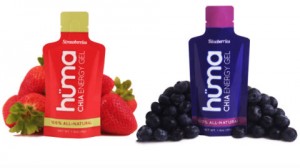 There is an embarrassment of riches when it comes to choosing a gel to power the ride, and the latest addition to the UK market is Hüma. Already gaining a considerable reputation in America, Hüma lands in the UK with solid 100% natural credentials and more than its share of tricks up its sleeve.
The 100kcal from each sachet has carbs derived not just from the fructose in the fruit purees that are the cornerstone of Hüma but also from both evaporated cane juice and brown rice syrup. Glucose/fructose blends improve absorption rates and help sustain energy in a more linear fashion, avoiding sugar highs and subsequent crashes, and Hüma is further aided by the addition of chia, which, as a blended fibre, further moderates how carbs are metabolised.
Chia is also well recognised as an excellent source of essential amino acids and of Omega 3 in particular; it also works as an antioxidant and has gained something of a name for itself as a super-food over recent years.
Hüma Chia Energy Gel is available in four flavours – Strawberry, Apple and Cinnamon, Mango, and Blueberry. As you might expect from a gel that eschews chemicals and additives in favour of fruit purees the tastes are crisp, clean and easily identifiable; they are, perhaps, a little on the sweet side, but show us a gel that isn't. The texture is smooth (none of that frogspawn consistency that taints many gels) and, we found, went down without the need of additional water.
If all that's not enough to tempt you Hüma is also gluten and dairy-free, vegan friendly and delivers sodium and potassium to replace 'salts' lost through sweating at a similar level to many electrolyte solutions.
Hüma Chia Energy Gel sachet sizes vary slightly between flavours – Mango 43g, Apples and Cinnamon 45g, Blueberry and Strawberry both 46g – but all retail at £47.76 for boxes of 24.
Further details of Hüma Chia Energy Gel at humagel.com