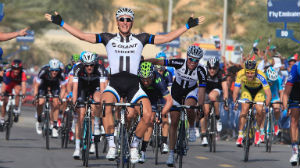 Team Giant-Shimano have announced their final nine-rider line-up for the first Grand Tour of the 2014 season, the Giro d'Italia, which starts in Belfast on May 9. Having already detailed Germany's Marcel Kittel's participation earlier in April, the team have now targeted the sprints with young Slovenian, Luka Mezgec, who already has four victories secured this season, and confirmed both Simon Geschke (Germany) and Tobias Ludvigsson (Sweden).  For his part in the Giro Kittel comments: 'Our first goal for the Giro d'Italia is to go for a stage and there are plenty of early opportunities for this with several flat days… I got the Tour de Romandie off to a strong start yesterday in the prologue and hope to have a good week of preparation here with some hard racing kilometres to get me ready for the start of the Giro next week.'
Team Giant-Shimano's full team for the Giro d'Italia is: Bert de Backer (BEL), Simon Geschke (GER), Marcel Kittel (GER), Tobias Ludvigsson (SWE), Luka Mezgec (SLO), Georg Preidler (AUT), Tom Stamsnijder (NED), Albert Timmer (NED), Tom Veelers (NED).
Speaking about the line up for the Giro, Team Giant-Shimano coach, Addy Engels said: 'The first goal for the Giro with Marcel in the team will obviously be for the sprints, and for the stages that are slightly too hilly for him we can ride for Luka too. We have a strong line-up of riders who will be able to support this in terms of chasing down the breaks and also for the lead-outs. Then there's a part of the team that will be looking for results from the other stages and taking their chances when they can – guys like Tobias, Simon and Georg. Opportunities like these are great for learning and development, as being out front in the final stages of a Grand Tour stage is no easy feat…'
This year's Giro d'Italia starts with three stages outside Italy, taking in Northern Ireland and Ireland. Starting with a time trial in Belfast on Friday May 9, the race will move on to Italy from Tuesday May 13 and end in Trieste on Sunday June 1.
Take a look at the Cyclo feature on this year's Giro d'Italia here - Further details on Team Giant-Shimano at teamgiantshimano.com