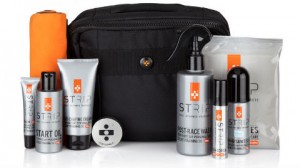 Skincare products probably seem like a secondary consideration for most cyclists and by secondary we're probably being generous with our priorities. But the recently launch Secret Training range of products comes with some impressive credentials, not least of which is the fact that they are the brainchild of Tim Lawson, European Champion Track Cyclist and founder of nutrition brand Science in Sport. Has that got your attention? Time to clean up.
The range is really all encompassing from Anti-Chaffing Cream at £7.99, to Lip Balm at £2.99 and Hygiene Wipes, a snip at £2.50. There's great attention to detail across the range and a distinct feel of designed by athletes for athletes – although we're pretty sure that strapline has already been snagged by others. The use of quality ingredients and the idea of keeping things simple when they don't need complicating seems to be at the heart of the range and the branding and packaging has clearly been thought through to appeal to the more discerning cyclist, although the affordable prices suggest something more egalitarian.
To get a feel for the Secret Training range Cyclo looked at the Race Day Personal Care Kit (£49.99) which contains Anti-Chafing cream, Start Oil, Micro Fibre Body Cloths, Post Race Wash, Lip Balm, Pins in a Tin, Sun Screen, Hand Sanitiser and Hygiene Wipes. In all honesty if you turned up a sportive or, heaven forbid a race, carrying this you would probably be on the receiving end of some odd looks (or deserved comments) but the individual products all stack up well and collectively make a good gift for the 'cyclist who has everything'.
The Lip Balm and Sun Screen (SPF 30) really impressed, both being jersey pocket friendly, non-greasy and without noticeable scent, whilst the Hand Sanitiser (£3.69 if bought individually), Post-Race Wash (£5.99) in a 250ml spray that looks suitably like you should apply liberally to the bike and the Micro-Fibre Body Cloth (£4.99) make good sense for the end of a long ride. The only thing that disappoint was the Pins in a Tin, but only because we were expecting mini-mints to be inside.
The Secret Training products have clearly been developed and launched with some passion and here at Cyclo we're more than happy to add them to our race-day bag.
Further details of the Secret Training product range and online purchase at secret-training.cc