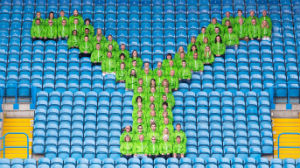 With the Grand Départ of the Tour de France less than a month away thousands of Tour Makers are being kitted out with special uniforms and taking part in role training; the army of volunteers has been recruited to help the millions of visitors who will watch the biggest annual sporting event in the world when in starts in Yorkshire on July 5 and winds its way through the UK to London before its return to France.
The Tour Makers are attending training sessions in Leeds at Elland Road Stadium and collecting their uniforms, designed by Yorkshire-based supermarket Asda, who have backed the project by helping to recruit and clothe the volunteers who have been allocated roles such as Route Marshal, Flag Marshal, Wayfinders, Crossing Marshals and Supervisors.
Gary Verity, Chief Executive of Welcome to Yorkshire, the agency who led the winning bid to bring the Tour de France Grand Départ to Yorkshire and came up with the Tour Maker idea, said: 'We've been blown away by the passion and dedication the Tour Makers have shown already. Now, there's a real sense of excitement building among them as they complete their training, get their uniforms and prepare for an experience they'll never forget.'
Tour Makers are being managed by the TdFHUB2014Ltd, the not-for-profit company set up by UK Sport to co-ordinate planning for the opening three stages in the UK.
For more on Yorkshire's Grand Départ see letouryorkshire.com