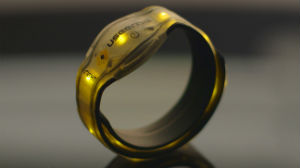 After three years of research and development the Useeme 'wearable turn signal' wristbands are a step closer to general availability with the launch of an IndieGoGo crowd funding campaign looking to raise €25,000 (£20,000).  Invented by Laszlo Nyiradi out of a desire to provide a cycling safety feature for his daughter the Useeme Bicycle Turn Signals are made with layers of flexible, form-hugging plastic, which make them easy to take on and off, with no clasps required. Set for manufacture in a small plant in Hernád, Hungary, they will be available in three different sizes and are designed to fit comfortably over clothing.
The first 2,000 pairs of the Useeme wristbands are only available to sponsors of the crowd funding campaign but for those who would like the bands ahead of general release, Useeme is also offering a tester series. There will be 200 test editions (which may differ slightly from the final design) available to those who pledge €33 with a 50% off coupon for the final product given to those who feed back test results to the manufacturers.
Further details of Useeme at useeme.eu and for the crowd funding campaign at indiegogo.com
Cyclo will be bringing you an early look review in the coming months.