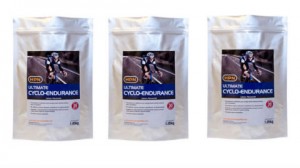 Another month, another brand-new nutrition product… Despite the relative crush of the market Ultimate Cyclo-Endurance from HPN (Hyperformance Nutrition), an isotonic mix with blended carbs and amino acids, is looking to edge out some shelf-space for itself. Cyclo grabbed a bidon and put it to the test.
Hyperformance Nutrition is a relatively new company, formed back in 2011, and promoting a commendably simple philosophy: 'Train effectively, incorporate optimum nourishment in your training plan and ensure optimum recovery and rest.' They also note: 'We go to great lengths to make sure (our products) taste great too!'
In that case let's start with taste: Only one option, lemon – but it's a good, clean and crisp tang achieved without artificial flavours or sweeteners (there are no artificial colours or preservatives either) and although there is a slightly bitter aftertaste, probably the result of using stevia as the natural sweetener, it's more than palatable. The scooped powder also mixed completely without any globs of residue – a true rarity in own-mix formulas in Cyclo's experience.
The rather awkward one and three-quarter scoops (couldn't HPN have made a smaller scoop and called it a nice round 'two'?) mixes with 700ml of water for optimum use with a recommendation to consume the full amount every 40-80minutes on the bike. That's a lot of bottles for a decent-length ride, but arguably about right for a shorter, faster session.
The nutritional values of Ultimate Cyclo-Endurance certainly stack up well. A 700ml bottle will deliver a fairly impressive 193.2kcal with all 44.9g of carbohydrates delivered via sugars (a blend of dextrose and maltodextrin.) The BCCAs (Branched Chain Amino Acids, here in the form of soya) are added, in part, to reduce fatigue, whilst the mix also includes vitamin C, B2, B6, B12 and niacin (vitamin B3) – in all this represents a really solid approach to on-bike nutrition, whilst the isotonic balance will help the hydration strategy.  That said, in an ideal world we'd rather see a more all-encompassing approach to replacing 'body salts' than the mere inclusion of sodium and potassium chloride…
Variety, they say, is the spice of life and having plenty of variety when it comes to nutrition and hydration can be key to mixing and matching for best results on the bike. We would no more recommend the sole use of Ultimate Cyclo-Endurance than any other product, but it's impressive blend (and generally good flavour) make it a great race-day or training addition. At £14.99 for 1.05kg – making up 20 bottles – the value is good too.
Further details and online purchase of Ultimate Cyclo-Endurance at hyperformancenutrition.com