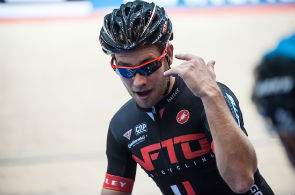 RideLondon winner Adam Blythe and five times World Champion and Olympic gold medal winner, Ed Clancy are the latest in a host of cycling stars to confirm they will be racing at the Revolution Series' first event on October 24-25 at the Lee Valley VeloPark. They will be joined by elite GB cyclists Ben Swift and Luke Rowe, and Blythe's NFTO teammate, Matt Rowe, completing a formidable line-up of British riders. Also confirmed are the defending champions Maloja Pushbikers from Germany, who will be sending their world renowned six day specialist riders, Leif Lamapter and Christian Grasmann.
Clancy who will be leading the way for Rapha Condor JLT comments: 'To come back to the Olympic Velodrome where I have so many great memories and to race against the world's best in front of an electrifying home crowd is the perfect combination. I'm hoping that my experience on the track will lead me to the podium, but I know with all the riders that have been confirmed it won't be easy.'
Managing Director of FACE Partnership and promoter of Revolution Series, James Pope, adds: 'To have all of these guys confirmed to compete, and more to follow, looks to be making this year's Revolution Series the most competitive yet. We've got a selection of road specialists who will be taking part off the back of extremely strong seasons, alongside track specialists looking to kick off their season with a bang, all of which means the action inside the velodrome is going to be unmissable.'
Following the opening races at the Lee Valley VeloPark in London, the event travels to Manchester and Glasgow, before coming back to London ahead of the final round in Manchester on March 14.
The full schedule for the Revolution Series is:
Round 1: October 24-25 – London
Round 2: November 22 – Manchester
Round 3: January 3 – Manchester
Round 4: January 31 – Glasgow
Round 5: February 27-28 – London
Round 6: March 14 – Manchester
Tickets for Round 1 of the Revolution Series start from £15 and are available at cyclingrevolution.com