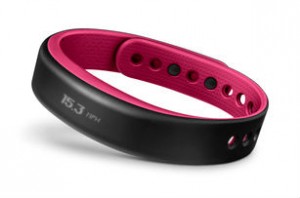 Whilst the long-anticipated first-look at the Apple Watch has arrived, Garmin, somewhat drowned out by the Tim Cook media circus, has unveiled their latest tech release the vívosmart.
The fitness band displays notifications of incoming texts, emails and calls on your wrist as you exercise allowing you, say Garmin, 'to move more and miss less!' Like the vivofit, launched earlier this year, the vívosmart learns about the users individual fitness levels and sets personalised daily goals, but also automatically syncs with the Garmin Connect mobile app meaning that your smartphone can stay in your pocket or pack while you continue to run or cycle.
Double tapping the screen brings up a menu where you can see everything from the time and date, to number of steps taken, the distance you have covered, calories and countdown to a personalised daily goal, whilst incoming messages are signalled with both vibration and preview.
Garmin's Andrew Silver, EMEA Product Manager for Fitness, says of the vívosmart: 'With its activity tracking features, additional workout support including timed activities, and smart notifications, vívosmart is like having a personal trainer and assistant right on your wrist. It challenges and motivates users to stay active and create lifelong healthy habits, while keeping them connected to family, friends, work and more.'
The vÍvosmart is water resistant to 50m and has a battery life of up to seven days, it will be available from October and will retail at £139.99.
Further details of the vÍvosmart at garmin.com