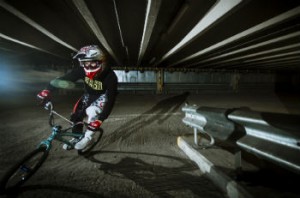 Cycle sports and entertainments company, FACE partnership, have launched Parkour Ride, a unique urban cycling event which will pit different 'tribes' of cyclists against each other in a race through the iconic Tobacco Dock in London on October 4.
Parkour Ride sets two competitors from across the BMX, mountain, fixed-gear and road bikes disciplines against each over a specially designed eleven story circuit, which has jumps, pinch points and chicanes and will be accompanied by a unique audio visual experiences. Male and female amateur riders will line up against the Parkour Pros, which include former World BMX Champion, Liam Phillips, multiple Tour de France stage winner, David Millar, five-times British and European Trials MTB Champion Danny Butler and Sam Pilgrim who will be riding on behalf of Parkour Ride event partner, Swatch.
James Pope, managing director of FACE Partnership and promoter of Parkour Ride, says: 'The concept for Parkour Ride came from a desire to create something completely unique in cycling and unite different types of riders in a big melting pot of racing and entertainment. It's not just a bike race but a festival, party and food feast!'
Members of the public will be able to track riders through a specialist Parkour Ride map and each rider will be fitted with a Go-Pro to bring the public closer to the action. Parkour Ride spectator tickets can be purchased online at an early-bird cost of £15 with participant entry available for £20 at parkourride.com. Potential riders can register here.