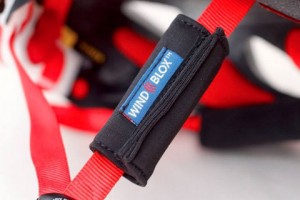 Bike, shorts, jersey, shoes. Good to go, right? Of course not there's a host of extras and gadgets out there just waiting to be purchased and the latest to cross the Cyclo desk is the dinky, slightly mysterious, Wind Blox.
Put simply Wind Blox help to eliminate the rushing sound of air as you cycle and whilst you may not have considered this a particular problem that needed solving, the difference they make is both very noticeable and potentially hugely beneficial to safety. To be reductive the Wind Blox (they come in pairs so Wind Bloxes?) are little padded cuffs that attach with Velcro around the front straps of a cycle helmet and partially shield the ears; the manufacturers claim that: 'Tests have measured a reduction of well over half of the perceived wind noise and often much more…'
Hard to disagree – though not precisely measure – on test. Even at relatively slow speeds the Wind Blox did make a really noticeable difference in how audible vehicles approaching from behind were as well as how far in advance they were audible. As a really low-tech impromptu test we tried riding with only one of the pair in place – the things we do for you…
The Wind Blox fit quickly and stay pretty much in place; they do sit slightly in the peripheral vision, which is noticeable on the first few rides but quickly becomes part of the norm. Their relative bulk against the straps, whilst perfectly comfortable, doesn't do much for the aesthetic of a helmet but when all things are considered safety has to trump looks and Wind Blox certainly tick that box.
Wind Blox are American and you'll have to make contact via their website wind-blox.com to discuss shipping outside of the States until a UK distributor picks these up, which in Cyclo's opinion won't be long. They retail at $15 (£9) for a pair and are available in black, grey, pink and neon green.